DHA Communications turns twenty this year. Daniel Harris, Managing Director, reflects on two decades in the business.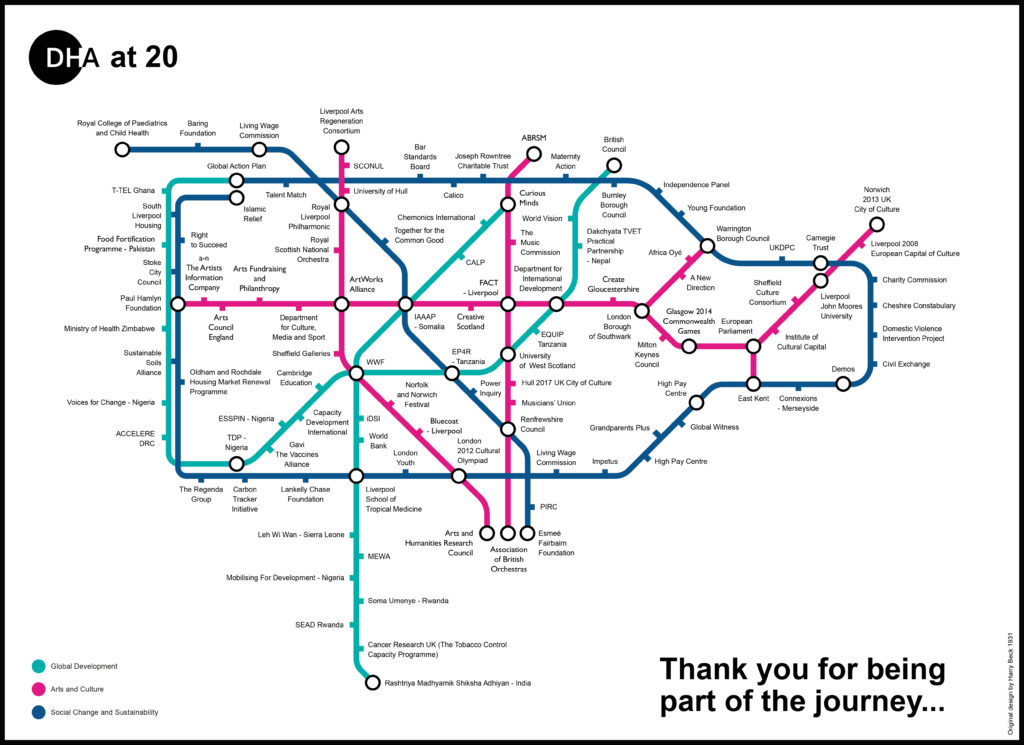 The truth is, when you create a business, you can sort of make up your own rules. Ours have been all about social and policy change – sometimes campaigns, but mostly about building the bridge between those who make decisions or provide services and those who need them – and then act.
As a premise for a business, it sounds grandiose, but the inequalities that needed addressing were all around us twenty years ago – and that was the spark. In many ways, the threats are far worse now.
Social deprivation, poor housing, destitute asylum seekers, bankers appointing ex bankers to award them astronomical bonuses, limited life chances for those without privilege, the pay gap, domestic violence, Islamophobia, people in work but still in desperate poverty, discrimination against pregnant workers – issues that we have worked on and every one of them needing decision makers to make change.
Internationally, the same injustices exist of course, but it has been much more about reform and development of basic services. Generations of girls that become women never having known education, appalling malnutrition blighting millions of lives, the lack of essential health services, large numbers of women dying in childbirth. Growing economies, building stability, addressing the threat of terror depends so much on providing access to basic education and ensuring better health
So, we made up our rules and, over time, developed a way of understanding issues, articulating policy, and creating powerful ways of getting it across. My mum was forever incapable of describing what we do. But it is essentially about using research and communication to influence policy.
Early on, the arts and creativity became important, certainly in the UK. The role of music and the arts – and how we express ourselves – is too often considered peripheral – and too often the preserve of those with access and money, when it is an essential human need and right. So, a while back, we saw the creative sector as one of the routes to social change. This has led us to work on some truly transformative projects – including Liverpool's European Capital of Culture Year, Hull's UK City of Culture Bid and the 2012 Olympics – and scores of less well known but hugely important initiatives, such as fair pay for artists and musicians.
I'd be dishonest if I didn't admit that all the international work – over 50 projects and NGOs over two decades – has been incredibly exciting for the places it has taken us. But the real joy has been that, through others, our time at DHA has seen real change that is transforming opportunity for millions of people.
Many education systems across sub Saharan Africa especially and many other places – and most will admit there is still a long way to go – have been transformed since the early 2000s. Seeing pre-school children being readied for school, local officials equipped to put money where it is most needed and reading programmes that you know will transform lives has been a privilege. Being a small part of policy change that will get more women the healthcare they need, educate generations of children, and extend vaccination to future-proof young lives remind you of just what effective development assistance can do.
It's a cliché, of course, but it is people that make change happen and the relationships we build, and have built, have been the key to the last twenty years. And, when it works, we have been a small cog in a whole series of productive interactions – sometimes prodding, often proposing the means to make stronger bonds between people and the evidence needed, and the ways to make services more responsive and effective.
Despite enormous uncertainty, especially now, two things are clear. Firstly, those in power need to radically shift the way policy is made and services are delivered. Government should be reaching into communities to enable the relationships to be built. Secondly, we must build powerful coalitions ourselves, especially around issues and people who have the least voice. It's happening of course, but it has to go further and faster and be smarter.
Like many, I see the long tail of austerity and the emergence from the current pandemic as both a threat and a chance to build something different. Whatever form that takes it will be characterised by the trust, honesty, purpose and clarity which I hope has always defined the way in which DHA works.